Crazy Pirate Slots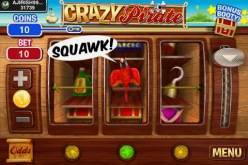 Anyone looking for an exciting mobile slots game will be pleased to discover the Crazy Pirate Slots game. Enjoy your chance to win on the exciting reels as you spin and battle your way toward excellent prizes. Available for the iPhone, iPad, and iPod Touch, this game is great for everyone! Keep reading to learn more, or download today to start playing.
Place Your Wagers
Slots enthusiasts will quickly discover that Crazy Pirate Slots is about the entertainment; wager anywhere between 1 and 10 coins on the single payline in this 3-reel game. Players will find it easy to adjust the number of coins wagered per line by simply tapping the plus and minus signs on either side of the "Bet Amount" box.
Look for Awesome Symbols on the Reels, Matey
Players spin the reels in Crazy Pirate Slots by dragging, and stop them by tapping. Those looking for an easier route can also change the game options to allow for automatic stops. Treasure Chests, Swords, Skulls, Parrots, and more line the reels; this assists in creating the excellent pirate theme that the game is based on. There are several symbols in the game that are worth special attention, and the first is the Skull. Players who find a Skull on the screen must tap it immediately to gain 1 coin; those who don't will lose 5 coins. The Wild is important because it allows the player to use it as a substitute to create winning combinations. Perhaps the most important game symbol is the Parrot, which leads to an entertaining bonus feature.
Don't Miss the Bonus
Fans of Crazy Pirate Slots will love the included bonus game. Simply wait until the Parrot appears on the reels, and then tap it as quickly as possible! Once you've launched the bonus game, you'll have a chance to win coins; take care to make sure you claim these coins before the pirates do!
Go Crazy Today
Crazy Pirates Slots is an excellent way to pass the time on your morning commute or anywhere else! The convenience of playing on a mobile device, like your iPhone, iPod Touch, or iPad, is too amazing to pass up. Players love the fact that slots are now available on a variety of platforms, which means you'll no longer be tied to your computer to enjoy thrilling slot machine action. Those ready to check out Crazy Pirate Slots can download this delightful entertainment to their favorite device anytime, via iTunes. Players who want to try pirate-themed slots at online casinos, are welcomed to check out famous Goldbeard Slots by RTG Silver Oak Casino