Max Damage and the Alien Attack Slots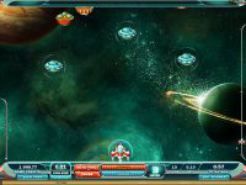 Play Now
Grab your space suit and prepare for lift off, it's time to protect outer space and beat the aliens once again. The 80's retro arcade games are back and Max Damage is going to fight for you to win big on this innovative and brand new concept of video slots games from Microgaming. Similar to the classic arcade style game Space Invaders, this new slots game doesn't come with typical slots reels and pay lines but an interactive interface game where you have to shoot the incoming alien space ships.
The player will advance to each new level when they shoot all the space ships for that level. You control the space ship and fire all the missiles at the aliens that are coming for you.
Keep your eyes on the screen captain, as these aliens will fly at you in different formations too.
The game is well designed with bright logo fonts, space backgrounds, colorful images and innovative graphics along with special outer space sound effects.
In the intro video you will see the Max Damage superhero and that is the handsome space hero who is flying for you to win. You'll find along this space slots game that it comes with lots of features for you like freebies and more.
Players will start with 6 lives in this fighting game and they can earn Health Boosters and Shields that helps them from the enemy attack.
There are a total of 9 levels and during each level players will receive upgrades on weapons and ammunition that enables them to knock out other aliens before they come to get you.
The Max Damage and the Alien Attack Slots Leaderboard.
The Top Scores leaderboard shows who's doing the best on the game and who's beating all the aliens. It shows the top scores including dates and rankings. Here's where the player can compete with other players and own the leaderboard and outer space. As players move up to each level it gets more difficult and if you defeat the final boss you can move up to the top of the leaderboard.
You won't find any of the traditional slots features in this game like free spins, reels, wilds, scatters and paylines. But what you do get is 10,000 coin payouts per ship and you can even win bigger than that, if you hit the big boss ship and collect up too 110,000 coins.
The big boss alien ship will appear at the end of levels three, six and nine.
As you play along you will also take advantage of all the interesting features like Upgrades, Freebies, Boosters and all the Multipliers that keep you in the game and beating all aliens so you can get through all the nine levels.
Max Damage and the Alien Attack Slots is a real blast for everyone. If you grew up in the 80's and were down at the arcade every night with your friends playing game like Space Invaders then you will definitely relate to this game; except now you can win lots of cash along the way and rule the leaderboard and out space for all to see.